This weekend the 7th international tournament ESKRIM Cup 2022 took place. To our great pleasure, our dear guest at the tournament was Mr. Giorgio Scarso, the president of the EFC (European Fencing Confederation), who opened the tournament.
About 70 competitors from Greece, Bulgaria, Serbia, Croatia and North Macedonia took part in the tournament.
We thank all the participants for the sports fair play, fighting spirit and quality they brought to Skopje. See you on some new occasion.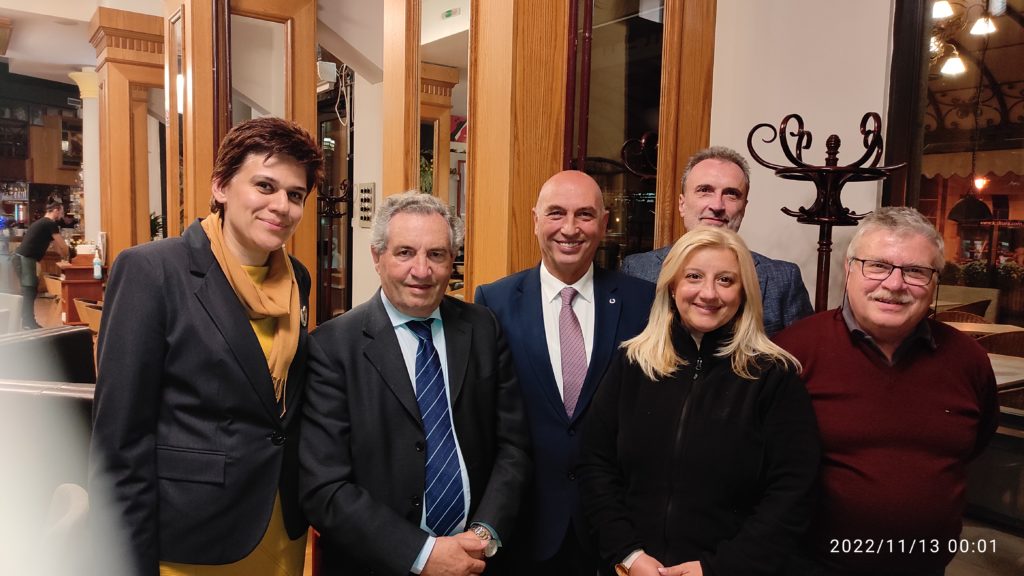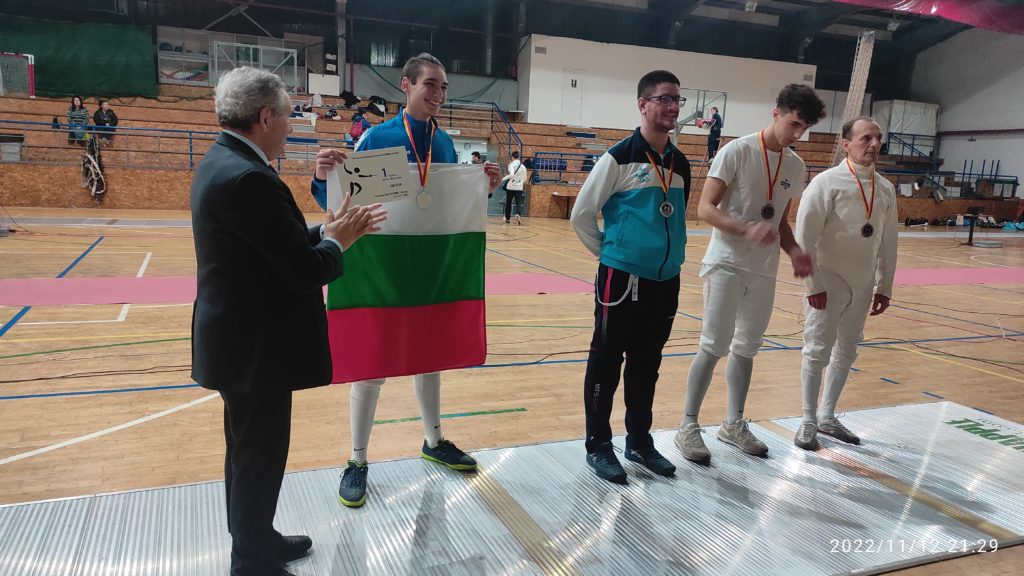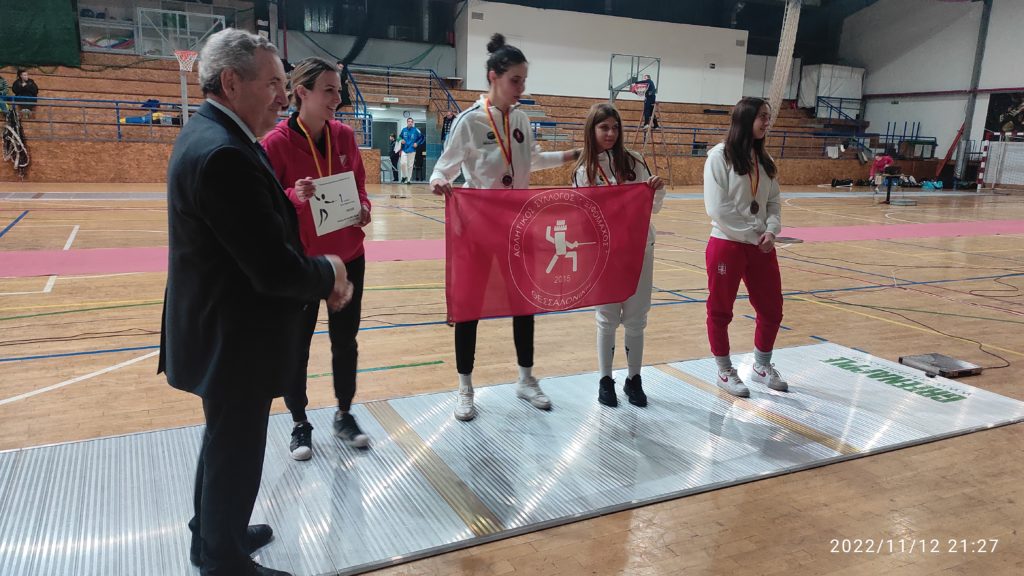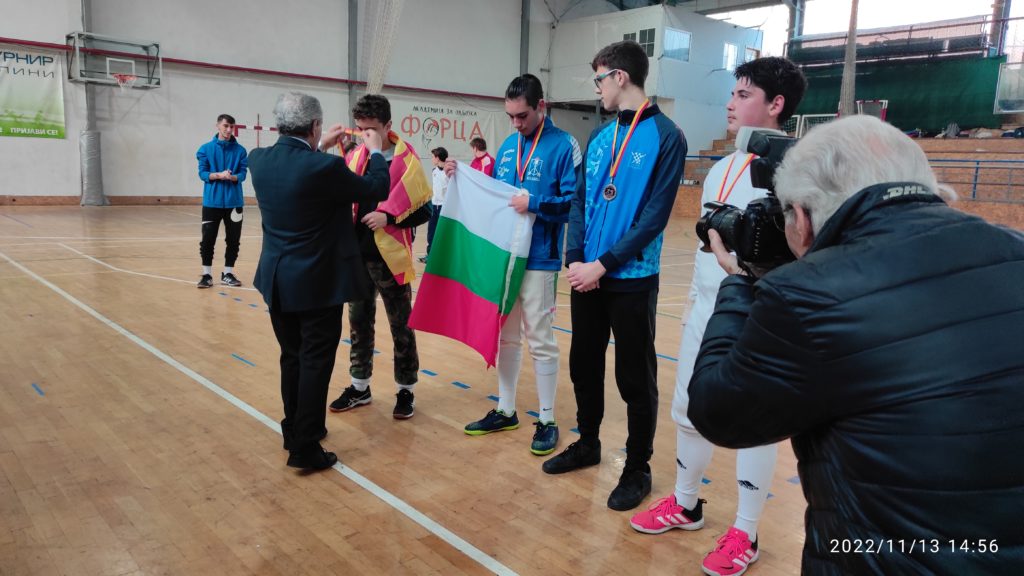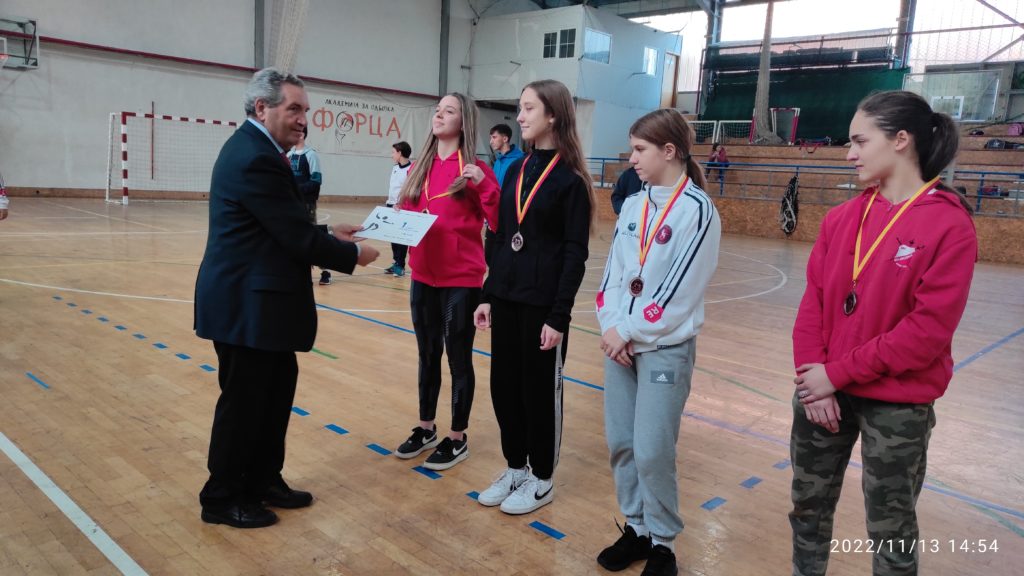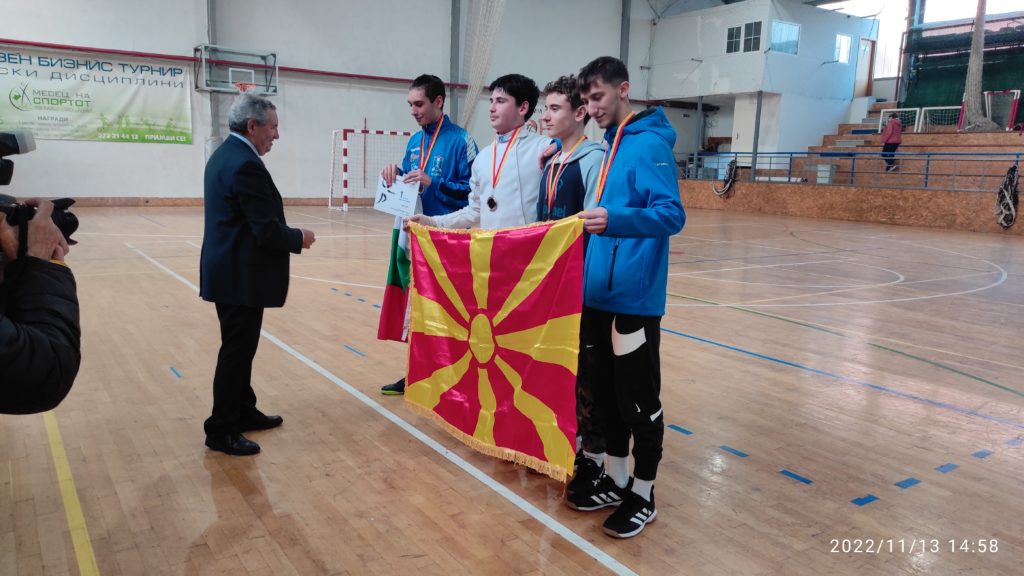 ESCRIME Cup 2022
Senior Men's Epee
Saturday, 12 November, 2022 – 15:30
Final Results
| Place | Name | Club(s) | Country |
| --- | --- | --- | --- |
| 1 | TSANEV Yuli | MK SOFIA | BUL |
| 2 | PETROVIC Nikola | OMLADINAC | SRB |
| 3T | SRBINOSKI Petar | MK BOREC | MKD |
| 3T | ALEKSANDROVSKI Tomi | MK RABOTNICKI | MKD |
| 5 | BUNDALO Ivan | OMLADINAC | SRB |
| 6 | NIKOLOVSKI Nikola | MK ESKRIM | MKD |
| 7 | ALEKSANDROVSKI Marjan | MK POBEDNIK | MKD |
| 8 | LUKIC Predrag | MK VOJVODINA | SRB |
| 9 | VELICHKOSKI Jovan | MK ESKRIM | MKD |
| 10 | PASCHALIDIS Konstadinos | FENCER Fencing Club | GRE |
| 11 | TSOUKALAS Stauros | FENCER Fencing Club | GRE |
| 12 | RISTOSKI Sasho | MK POBEDNIK | MKD |
| 13 | GRIZELJ Marko | MK DMITAR ZVONIMIR | CRO |
| 14 | VRBAJAC Kosta | MK VOJVODINA | SRB |
| 15 | PENNOS Isaak | AOX Pilaias | GRE |
| 16 | JOVCHEVSKI Viktor | MK RABOTNICKI | MKD |
| 17 | TRPKOVSKI Pavel | MK ESKRIM | MKD |
| 18 | ALEKSANDROVSKI Matej | MK RABOTNICKI | MKD |
| 19 | DAMJANOSKI Petar | MK ESKRIM | MKD |
| 20 | SIPOVAC Aleksandar | MK VOJVODINA | SRB |
| 21 | CHRISTAKIS Vasilios | FENCER Fencing Club | GRE |
| 22 | MANOMENIDIS Ioannis | MEGAS ALEXANDROS | GRE |
| 23 | TODOROVSKI Matej | MK ESKRIM | MKD |
| 24 | BOZINOVSKI Simon | MK ESKRIM | MKD |
| 25 | POMANA George | KMK Karadjordje | SRB |
| 26 | PAPANIKOLAOU Christos | FENCER Fencing Club | GRE |
| 27 | DIMITRIOU Christos | FENCER Fencing Club | GRE |
| 28 | KURTOVIC Zdenko | MK DMITAR ZVONIMIR | CRO |
| 29 | TROUPKOS Konstantinos | MEGAS ALEXANDROS | GRE |
| 30 | BUNDALESKI Ognen | MK ESKRIM | MKD |
| 31 | MARIC Marin | MK DMITAR ZVONIMIR | CRO |
| 32 | DESPOTOVSKI Aleksa | MK ESKRIM | MKD |
| 33 | PAUNOVIC Stepa | KBS Akademija Borilackih Sportova KI Nis | SRB |
| 34 | BODROZA Dejan | KMK Karadjordje | SRB |
| 35 | TROUPKOS Thomas | MEGAS ALEXANDROS | GRE |
| 36 | ESSA Mihail | MK POBEDNIK | MKD |
Senior Women's Epee
Saturday, 12 November, 2022 – 15:30
Final Results
| Place | Name | Club(s) | Country |
| --- | --- | --- | --- |
| 1 | SEL ANA | MK VOJVODINA | SRB |
| 2 | MOSKOF Cristina | FENCER Fencing Club | GRE |
| 3T | ANTHOPOULOU Anastasia | FENCER Fencing Club | GRE |
| 3T | POMORISAC Teodora | OMLADINAC | SRB |
| 5 | KOCEVSKA Neda | MK ESKRIM | MKD |
| 6 | KUKIC Masa | MK VOJVODINA | SRB |
| 7 | BLAZEVSKA Dafina | MK ESKRIM | MKD |
| 8 | SERAFIMOV Pela | MK BOREC | MKD |
| 9 | MAJKIC Tara | OMLADINAC | SRB |
| 10 | CIKA Magdalena | MK VOJVODINA | SRB |
| 11 | DOROSKI Isidora | MK VOJVODINA | SRB |
| 12 | ANTHOPOULOU Eleftheria | FENCER Fencing Club | GRE |
| 13 | TSANEVA Kamena | MK SOFIA | BUL |
| 14 | RISTOSKA Nastasja | MK BOREC | MKD |
| 15 | KEVAC Tea | MK LOKOMOTIVA | CRO |
| 16 | CHRISTAKI Ines-Norma | FENCER Fencing Club | GRE |
| 17 | MILOSHEVSKA Sonja | MK POBEDNIK | MKD |
| 18 | BOZIN Jelica | MK POBEDNIK | MKD |
| 19 | JAKSIC KOVAC Sara | MK DMITAR ZVONIMIR | CRO |
| 20 | IGNJATOVSKA Lina | MK POBEDNIK | MKD |
| 21 | VALSAMOPOULOU Anastasia | MEGAS ALEXANDROS | GRE |
| 22 | NAMMOUR Patricia | MK DMITAR ZVONIMIR | CRO |
| DNF | DAMJANOSKA Iskra | MK ESKRIM | MKD |
Cadet Men's Epee
Sunday, 13 November, 2022 – 09:00
Final Results
| Place | Name | Club(s) | Country |
| --- | --- | --- | --- |
| 1 | DAMJANOSKI Petar | MK ESKRIM | MKD |
| 2 | TSANEV Yuli | MK SOFIA | BUL |
| 3T | MARIC Marin | MK DMITAR ZVONIMIR | CRO |
| 3T | TODOROVSKI Matej | MK ESKRIM | MKD |
| 5 | TRPKOVSKI Pavel | MK ESKRIM | MKD |
| 6 | PAPANIKOLAOU Christos | FENCER Fencing Club | GRE |
| 7 | BUNDALESKI Ognen | MK ESKRIM | MKD |
| 8 | TSOUKALAS Stauros | FENCER Fencing Club | GRE |
| 9 | COMA Viktor | MK VOJVODINA | SRB |
| 10 | MARINA Matej | MK BOREC | MKD |
Cadet Women's Epee
Sunday, 13 November, 2022 – 09:00
Final Results
| Place | Name | Club(s) | Country |
| --- | --- | --- | --- |
| 1 | KUKIC Masa | MK VOJVODINA | SRB |
| 2 | SERAFIMOV Pela | MK BOREC | MKD |
| 3T | ANTHOPOULOU Anastasia | FENCER Fencing Club | GRE |
| 3T | DOROSKI Isidora | MK VOJVODINA | SRB |
| 5 | ANTHOPOULOU Eleftheria | FENCER Fencing Club | GRE |
| 6 | KOCEVSKA Neda | MK ESKRIM | MKD |
| 7 | CIKA Magdalena | MK VOJVODINA | SRB |
| 8 | BLAZEVSKA Dafina | MK ESKRIM | MKD |
| 9 | CHRISTAKI Ines-Norma | FENCER Fencing Club | GRE |
| 10 | TRPKOVSKA Mila | MK ESKRIM | MKD |
| 11 | IGNJATOVSKA Lina | MK POBEDNIK | MKD |
Junior Men's Epee
Sunday, 13 November, 2022 – 12:00
Final Results
| Place | Name | Club(s) | Country |
| --- | --- | --- | --- |
| 1 | TSANEV Yuli | MK SOFIA | BUL |
| 2 | TODOROVSKI Matej | MK ESKRIM | MKD |
| 3T | DAMJANOSKI Petar | MK ESKRIM | MKD |
| 3T | NIKOLOVSKI Nikola | MK ESKRIM | MKD |
| 5 | TSOUKALAS Stauros | FENCER Fencing Club | GRE |
| 6 | GRIZELJ Marko | MK DMITAR ZVONIMIR | CRO |
| 7 | SRBINOSKI Petar | MK BOREC | MKD |
| 8 | VELICHKOSKI Jovan | MK ESKRIM | MKD |
| 9 | BUNDALESKI Ognen | MK ESKRIM | MKD |
| 10 | BOZINOVSKI Simon | MK ESKRIM | MKD |
| 11 | TRPKOVSKI Pavel | MK ESKRIM | MKD |
| 12 | DESPOTOVSKI Aleksa | MK ESKRIM | MKD |
| 13 | COMA Viktor | MK VOJVODINA | SRB |
| 14 | MARIC Marin | MK DMITAR ZVONIMIR | CRO |
Junior Women's Epee
Sunday, 13 November, 2022 – 12:00
Final Results
| Place | Name | Club(s) | Country |
| --- | --- | --- | --- |
| 1 | POMORISAC Teodora | OMLADINAC | SRB |
| 2 | CIKA Magdalena | MK VOJVODINA | SRB |
| 3T | KUKIC Masa | MK VOJVODINA | SRB |
| 3T | KOCEVSKA Neda | MK ESKRIM | MKD |
| 5 | BLAZEVSKA Dafina | MK ESKRIM | MKD |
| 6 | DOROSKI Isidora | MK VOJVODINA | SRB |
| 7 | TRPKOVSKA Mila | MK ESKRIM | MKD |
| 8 | MAJKIC Tara | OMLADINAC | SRB |
| 9 | MILOSHEVSKA Sonja | MK POBEDNIK | MKD |
| 10 | ANTHOPOULOU Anastasia | FENCER Fencing Club | GRE |
| 11 | ANTHOPOULOU Eleftheria | FENCER Fencing Club | GRE |
| 12 | SERAFIMOV Pela | MK BOREC | MKD |
| 13 | IGNJATOVSKA Lina | MK POBEDNIK | MKD |
| 14 | JAKSIC KOVAC Sara | MK DMITAR ZVONIMIR | CRO |